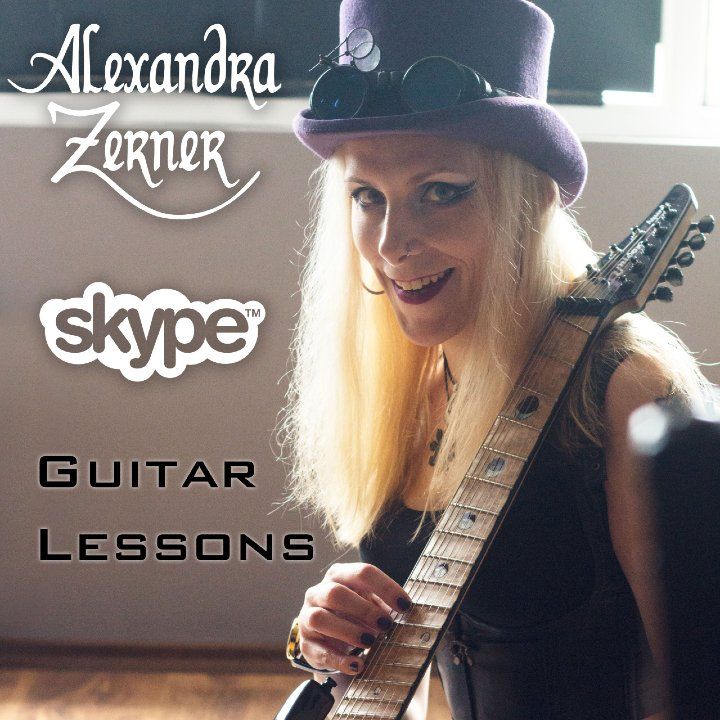 My name is Alexandra Zerner and I am a professional guitarist and a teacher with more than 20 years of experience with guitar students. Being a session guitarist as well, I've worked with many musicians, playing a wide variety of genres, which gave me the chance to master a lot of different approaches and manners of playing, required by the specifics of every different style.
Based on my experience, over the years I was building and improving my teaching methods in order to provide my students with a fast, effective and good development of both technical ability and musical skills, and to be able to personalise the courses according to the student's specific needs and abilities. This constant work on my teaching led to a proven scheme for you to achieve the best results in a relatively short period of time – I am not the kind of teacher who would waste your time and money teaching you a single scale or arpeggio for months, but it also means that my manner of teaching is intense and most suitable for people who are really willing to learn and put the necessary efforts into it.
My work
I am not expecting you to rush into booking lessons with someone, whom you've never seen or heard playing. So before you proceed, I suggest you check my Official YouTube Channel, where you will find my solo albums, covers, tutorial videos and more, so you would be able to acquire a better insight into my musical knowledge and skills. 
My approach
Besides music, I have thoroughly studied materials in many different fields like psychology, philosophy, linguistics, physics, architecture, and arts which has broadened my perspective and allowed me to develop a unique and highly effective approach in teaching music which has led to success where many standard methods have failed. Using this strategy, I have helped my students to achieve their goals in an engaging and effective way, no matter if it's about playing your favourite songs on the  guitar, becoming a skillful songwriter, or being a professional musician and getting accepted at higher educational institutions such as Berklee College of Music or Institute of Contemporary Music Performance in London.
Throughout my development as a musician, I've studied with many teachers which gave me the opportunity to analyse different methodics and to create my own education approach in order to maximise the efficiency while I remain flexible enough to adapt the course to the student's specific needs and tastes, as I deliver it in a form suitable for their individual learning and thinking style.
My methods are based on evaluating your problematic areas and analysing your cognitive approach in order to optimise the teaching process to achieve effective material acquisition and long-term information retaining. I will provide you with tailored technical exercises along with learning and analyzing  your favourite songs, solos and riffs, as in the process I'll integrate music theory and aural skills in a simple and engaging way to provide you with instant practical knowledge without being overwhelmed by obsolete and overcomplicated theoretical approaches.
Even though my scope gravitates around progressive rock and metal, I have played with many different bands and artists in all kinds of settings which allowed me to become proficient in a wide variety of genres ranging from pop and funk, through world, acoustic and ambient, to jazz, blues, rock, and metal, so no matter if you like it chill and acoustic, uplifting and melodic, dark and aggressive or extreme shred, I will help you acquire the technical and musical skills to play what you want to. I teach every level of guitar from beginner to advanced, including people, who have never held a guitar in their life, so if you're one of them – don't worry – I will guide you on your way to becoming the musician you want to be.
Reviews
"

Alex is not only a gifted musician but also an excellent guitar teacher and an insightful mentor when it comes to guitar playing and teaching. I never learned how to play the guitar in a systematically structured manner, so my playing could be very inconsistent and fragmented until I signed up for guitar lessons with Alex. Alex has given me the knowledge and mastery of music theory and playing technique in order to help me achieve from novice to intermediate level and correct my wrong playing technique. Currently, I am still taking lessons from Alex to further advance toward my goal of being a competent guitar player. I would highly recommend her to those who, regardless of their background and guitar learning histories, want to even just pick up the guitar to play or achieve the goal of being a professional musician"
— Am
"

I had known Alexandra for her insane guitar playing after listening to her first album "9 Stories". When I found out that she is also teaching guitar, I was almost afraid to ask about lessons because I was not much more than a beginner on the guitar with some rudimentary background in classical music.
 Luckily I did! After the first lesson, Alexandra with her teaching experience put together a set of excercise she had developed herself that were tailored to my capabilities and helped me tremendously to improve my playing between our weekly Skype sessions. Her systematic approach was a perfect match for my way of exercising, yet, whenever I heard a song and wanted to learn it, she would incorporate that in her lesson immediately, thanks to her ability to analyze music right when she hears it. At the end of those lessons I would not only have a kickstart on the riffs and fingerings but also a breakdown of the music theory behind a song."
— Aron (Switzerland)
"

My guitar lessons with Alexandra have been an invaluable part of my ongoing journey to improve my understanding of music theory and its practical application. Most of my years as a guitar player revolved around blindly playing the same things over and over again, and I simply got worn down. Thanks to Alexandra, I've been able to develop a heightened sense of musical self-awareness. On a weekly basis, she helps me better understand music while guiding me through the "mysteries" I encounter along the way. She navigates the fretboard with me, ensuring no question goes unanswered. I truly treasure her priceless knowledge."
— noamyg
"

I was primarily a self-taught guitarist and I had reached a somewhat decent intermediate level of playing. But I was stuck in a plateau, not really knowing what to do next, some things were just way beyond me. Alexandra's lessons helped me get out of this rut and reach the next level in my guitar playing. I'm now learning songs, techniques and solos that are so advanced, I never imagined I would be able to play two years ago, when I started my lessons."
— Nikolay Nikolov
"

I've had lesson with Alex for many years and she's a great tutor. She is very consistent and keeps track of progress, helping overcome complex matters in a very systematic way. I love how detail oriented she is and can take your technique to a whole new level. Highly recommend!"
— Neli Harper
"

I have been taking weekly Skype lessons with Alexandra since mid-2020. Not only has it been a privilege to be able to interact on a weekly basis with someone with such musical expertise and competence, but her pedagogic skills are also of the highest standards. From ear training to technique development to plain inspiration, her lessons are helping me become a better guitarist and dare-I-say burgeoning musician, with an even greater appreciation for the music I love, as I can finally understand what I am hearing. Oh yeah, she's very cool as well and an awesome, kind person. Thank you Alex! I am looking forward to continuing this musical adventure for many years to come."
— Daniel, guitarist in a Toto tribute band and writing own music
"

I've been a student here for quite a while and it's kinda hard to just describe everything in one shot review. But well, I'll give it a try anyways ;)

So, here we go:

Even though I used to play the guitar for a few years, it was my very first experience with guitar lessons. I should also mention that before I started taking those lessons I had absolutely zero musical knowledge nor related education.

I've learned about Alexandra and her music while looking for 'Altitudes' covers. It left such a huge impression on me that I decided to contact her and ask for lessons.

It quickly turned out that she is not only a very talented musician but also (which I think is even more more important in case of guitar lessons) a very natural and dedicated teacher. It really takes a lot of skill to explain music theory in a very simple and accessible manner while swiftly breaking everything down to the most fundamental pieces.

I've never been any good with musics and I didn't have very high expectations regarding myself and my ear for music. Even though it was really hard for me to understand the basics and make any progress she stayed patient and understanding, always finding new and interesting ways of explaining things difficult or obscure to me. And well, after a bunch of these lessons I finally found myself improving, noticing differences in notes pitches, distinguish intervals and accords, hearing some differences between scales... It definitely felt worth putting all the effort and time into this.

And that's it.

10/10, would spend all my time and money on the lessons if I only could ;)

So, regardless if you are a beginner who wants to try something fresh, if you are guitar player who wants to improve technical skills and learn something new, if you are experienced player who's looking for a wise mentor or if you are there just looking for someone who could guide through the vast world of music - congratulations, you've just found a right person."
— DS